Hi Christ-Followers!
I want to share with you a new app for your I-phone or Android. It can be a part of a life changing experience. It is the Freedom in Christ App.  Just go to where you download your apps and download the Freedom In Christ Course.  Then make it one of your apps. Now, I need to tell you that to get the full benefit, please consider paying the grand sum of $1.49; otherwise, you will miss out on a lot. 
Why Do I Need To Know About This?
Why am I talking about this? For one thing, there are a whole bunch of Christians who are simply NOT free! Something continually keeps them beaten down, beaten up, overwhelmed, stressed out and maybe even burned out. In other words, they are not experiencing love, joy, peace, long-suffering, gentleness, goodness, integrity and self-control. They are not experiencing God's character being formed in them. To say this another way, there is little or no evidence of the fruit of the Holy Spirit growing in them.  And the gifts of the Holy Spirit don't seem to light them up either. Discovering Freedom in Christ is the key to remedying this. Walking in "The Truth That Sets You Free" is key to getting Victory over your darkness. God's liberating truth, and steps to Freedom in Christ, can become your bondage breakers, and they are vital to having a free life in Christ!
So, besides the app,  let me recommend you get a couple of books, and a booklet. Please read them and work through them in the order that I am giving them to you in this blog. Then walk through the Steps to Freedom in Christ after reading these books. And daily discipline yourself, as a Disciple of Christ Jesus, to live by God's truth, and the truth sets your free.  Here are the books:
Victory Over The Darkness:  by Dr. Neil Anderson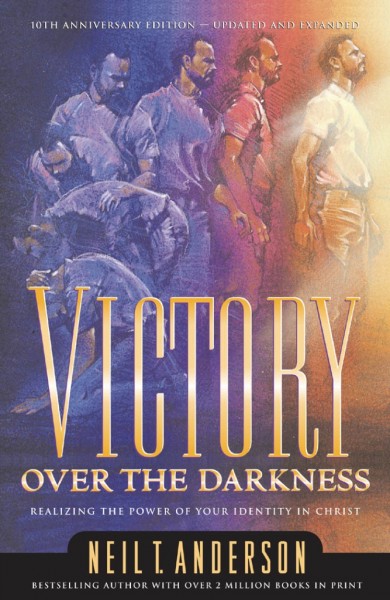 As you look at this book,  notice the image of the broken down, and living in darkness, Christian who is slowly empowered to be able to stand up, face God's light, walk in the light and BE the light of the world Christ tells us we are. There is also a teen version of this called Stomping Out The Darkness. Furthermore, if you really want to go deeper or do a study with your friends, all you have to do is purchase the Victory Over The Darkness Study Guide. For anyone who is looking for a way to have more victory in your life, and who wants to be able to overcome your dark challenges in life, this is step one to being free. Get your identity right.
Bondage Breaker: by Dr. Neil Anderson
You are trapped. You don't know how you ended up in such a mess. You are locked in habits your cannot break. Or you are caught in sin. You are NOT alone. The Bible warns us repeatedly that ALL Christians will struggle against Satan and his spiritual forces of darkness. While the spiritual conflict that churns within you is very real, the answers are just as tangible. Bondage Breaker reveals the whys and hows of spiritual warfare and exposes Satan's battle for your mind. Bondage Breaker shares the powerful truth that will break even the most stubborn habits or private sins. The point is that you can live without your chains. Learn the truth of who you are in Christ, and what it means to be a child of God. Knowing your spiritual identity and position in Christ is the essential truth that sets you free. For those interested in helpful literature for small group or personal study, there is also a study guide that accompanies this book, and the study guide is also called Bondage Breaker. And there is also now a teen addition.
Steps To Freedom In Christ
After you read these books, one of the best challenges you will get to have will come from the thirty-page booklet entitled Steps To Freedom in Christ. Successfully completing this challenge will help you take hold of the Freedom that is Yours IN Christ! Do you want to become an even more fruitful disciple of Jesus? Are you tired of not fulfilling your full potential  as a Christ-Follower? These steps represent a wonderfully refreshing spiritual check up. These steps will help you clear the spiritual cobwebs and connect with Jesus in a deeper way. Many, like myself, use these steps with regularity. These steps help highlight attitudes and behaviors that need to change,  and they help you to uncover areas where faith is not as strong as it could be.
This booklet is also extremely effective for those facing particular challenges such as:
Condemning thoughts

Patterns of wrong behavior

Spiritual struggles

Hopelessness
Therefore, if you want to be more Free in Christ, get the app, read these books and walk through steps that fill you with truth, and God's Almighty truth will set you free! Then go help set others free!
God Bless You
IN Christ
Chaplain Mac